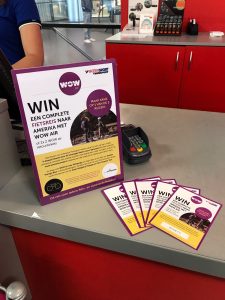 Together with WOW air, Visit Pittsburgh and Golden Triangle Bike we set up a great retail cooperation in the Netherlands with Intersport Twinsport. From the 6th of June until the 16th of July every customer of the retail chain has the chance to win the main prize: a 9-day bicycle trip to Pittsburgh, where they will bike the 540 km long Greath Allegheny Passage and C+O Towpath Trail from Pittsburgh to Washington DC. One of the most beautiful biketrails of the United States!
Besides this amazing price, WOW air also gives away two times two return tickets to Pittsburgh. People can easily participate. With every purchase a customer makes at Intersport Twinsport they will get a voucher with a unique code. This code can be filled in on the special created website www.winmetwowair.nl. All they have to do is answer a question, fill in some personal information and they automatically have the opportunity to win one of these three prices.
Pittsburgh: The new WOW destination
From the 16th of June WOW air flies directly from Reykjavik to the newest destination in the United States: Pittsburgh. Because of this the vibrant city is very payable and easy accessible from Amsterdam. Two times a day there is a WOW air flight from Amsterdam Schiphol to the Icelandic capital, where you only have to wait for an hour for the transfer to Pittsburgh. The city was placed at number four of the seventeen destinations you have to visit in 2017, according to Harper's Bazaar. Pittsburgh has a lot to offer on a cultural and culinary base.
The city is also the start of the Great Allegheny Passage Trail, a big reason why the city is a perfect base for sports and outdoor fanatics. There used to be a train going to Washington DC over this trail, but today you can find one of the most beautiful bike trails of the US here. Bike over what used to be a train track and cross through small American villages which often serve as places to sleep.
9 days of biking fun
The main prize that can be won at Intersport Twinsport is a 9-day bike journey for two persons with Pittsburgh as starting point. With the new flight from WOW air you will travel to the city in Pennsylvania, where you will stay for one night. The next day you get on your bike from Golden Triangle Bike en you start your journey over the Great Allegheny Passage. When you reach the city of Cumberland this trail transforms into the C+O Towpath Trail, which ends in Washington DC. You will bike through the beautiful nature for a week in total. On your way you are sleeping in cozy Bed and Breakfasts or nice hotels. Transport of your luggage will be taken care of as well, so you don't have to take it with you on your bike. When you reach Washington DC you will get in a bus and travel back to Pittsburgh. You will stay here for one night before you head back to the Netherlands the next day. An amazing trip for every sports and outdoor fanatic!
Look at the created website to get a feeling of the retail cooperation!