In this article we would like to introduce you to a new member of our team. This time you will meet Madge. She will introduce herself in this interview.
"Hola! A new face with a new challenge. My name is Madge and a couple of weeks ago I started my new adventure at CityZapper. Fresh as a graduate student communication I am now responsible for the content and PR. The perfect opportunity for me to combine my passion for traveling and creating content. To get to know me better, my colleagues presented me some difficult dilemmas. Let's go! "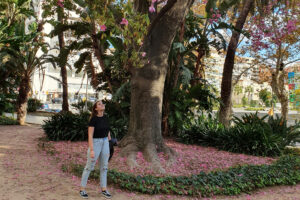 Why did you start working here?
"After completing my bachelor's degree in communication, I was looking for a new challenge. In the past years I started to enjoy creating content and that is why I was looking for a position that matches my interests. I can combine my passion for creating content with my interest for traveling and discovering beautiful destinations."
What do you like to do in your spare time?
"In my spare time I spend as much time as possible with my friends. How we spend our time together really depends on the season. In winter you often find me on the couch with a cup of tea or hot chocolate (with lots of whipped cream) and in summer I spend a lot of time on terraces or at the beach. "
What is your most beautiful trip ever?
"I think Uganda is the most special place. Together with a group I traveled through Uganda. From the capital city Kampala to waterfalls, mountains, jungles, river safaris and much more. And of course 'The Big Five'."
What is your favorite city?
"Can I also choose 2 cities? In the Netherlands my favorite city is Amsterdam. The nostalgic feeling I get when I walk through the streets makes this the most beautiful city to me. My grandfather is the major influence for this, since I was little he told me Amsterdam is the most beautiful city there is and I totally agree with him. My other favorite city is Málaga. 5 years ago I lived here for 2 months to learn the Spanish language. On my own I left to an unknown city. From crying at the airport in the Netherlands, to an euphoric feeling when I arrived in Málaga. Together with other students we took Spanish lessons and our free time we spent in the city or at the beach. In the meantime I have been back twice and I still feel the same euphoric feeling when I arrive at the airport! "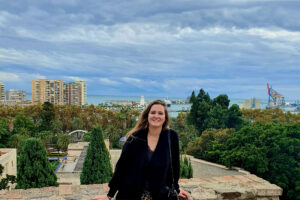 Do you have a trip planned at the moment?
"Very unfortunate, but nothing at all due to the circumstances of Covid. The only trip I make for the time being is a walk through the forest, to the supermarket or I travel by train. But as soon as it is possible, I will plan a citytrip.
Which three cities are at the top of your bucket list?
"Marrakesh, Ulaanbaatar and Berlin."
Next are a number of Holiday Dilemmas for you! Ready?
Inside or outside Europe?
"Inside Europe. There are still so many cities in Europe that I haven't seen. First I want to add more cities to my Europe list and then later I will expand my list outside Europe."
Plan your entire trip in advance or find out everything on the spot?
"Finding out everything on the spot. Of course I will arrange the accommodation and transport in advance, but I think it is way too much fun to wander around in a city and explore the place in that way."
Old historic city center or skyscrapers?
"Historical city center. The history of a city is often what attracts me. Two years ago I went to Rome for the first time, the whole city feels like one big open-air museum. Everywhere you look you see parts of history, how cool!"
Never go back to your favorite city or never discover a new city again?
"Oh, this one is very difficult. If I now assume that Málaga is my favorite city, I will never goback to my favorite city again (it's cheating, I know, but never going to Amsterdam again is not an option for me).
City trip in summer or winter?
"Can I also choose autumn or spring? I think these seasons are perfect for a city trip. Not too hot or too cold, just enjoying a new city."
Enjoying the nightlife or getting up early to discover a destination?
"Getting up early and discover a city. Enjoying the nightlife is also possible in the Netherlands. When I'm on holiday or on a city trip, I really want to discover the most special places."
Travel by plane or car?
"For some destinations it's not possible to travel by car, so I have to say plane, but actually I prefer car. As a child, I thought it was great to sit in the car together, to stop at the first gas station in France and then eating the first French baguette of the holiday. This is kind of nostalgic for me.
A destination by the beach or in the mountains?
"Definitely beach. The beach, sea and a surfboard are the ingredients for a perfect holiday"